Frank Marquez, owner and president of Bonita Pipeline, Inc. grew up in the pipeline construction business. The only boy in a family of nine children, Frank often accompanied his father to his job sites. At the age of 10, Frank was already trying to figure out how to do things better. He would help and observe his dad for hours, watching workers and imagining a more efficient way to accomplish the task at hand. Frank has been doing that ever since.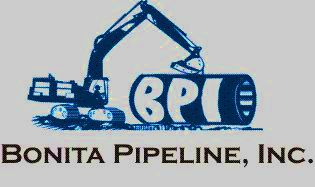 After learning all he could from his father, Frank got his own experience in the industry, working with the USMC (Combat Engineer) and for construction powerhouses throughout Southern California. He finally decided to be his own boss. So in 2002, in honor of his father, Frank opened Bonita Pipeline, Inc.

The owners, key employees and project supervisors who make up Bonita Pipeline, Inc. have extensive experience in sewer, water and storm drain system installations, trenching and compaction of wet utilities complete and ready for use. Bonita has more than 60 years of combined experience in the plumbing industries and boasts experts in building plumbing. They provide complete pipeline, mechanical, plumbing and underground site utilities construction services, utilizing handpicked, qualified craftsmen throughout the region.


Employees are Bonita Pipeline's most precious resource, and as such, the company is focused on safety. It employs a roving BPI safety supervisor who performs job site audits, safety meetings and conducts hazard analysis meetings on site to discuss potential hazards within the workplace. Bonita Pipeline, Inc. also developed a comprehensive Injury, Illness & Prevention Program (IIPP), on site and complete with MSDS information as required.

Bonita Pipeline, Inc. is committed to cutting-edge technology, employing state-of-the-art software and equipment to deliver the best results. The company estimates, schedules, executes and tracks its projects utilizing Heavy Bid and Microsoft Projects computerized software. Bonita Pipeline, Inc. recognizes the importance of tracking projects utilizing a detailed, task-oriented, resource driven schedule to communicate progress and forecast activities to affect a continual flow of production.

While Bonita Pipeline, Inc. remains committed to technology, the company's values invoke a time when a handshake truly meant something and one's word was one's bond. Bonita Pipeline, Inc. has gained a reputation for showing the utmost respect to its clients and its employees, placing high value on long-term relationships.